From
cheeseburger-stuffed-crust pizzas
to the
Lasandwich
, we've covered a lot of amazing food creations here at
Digital Spy
.
We don't usually get to take part in the eating challenges favoured by
Joey 'Jaws' Chestnut
and
Takeru 'Tsunami' Kobayashi
, but that all changed today...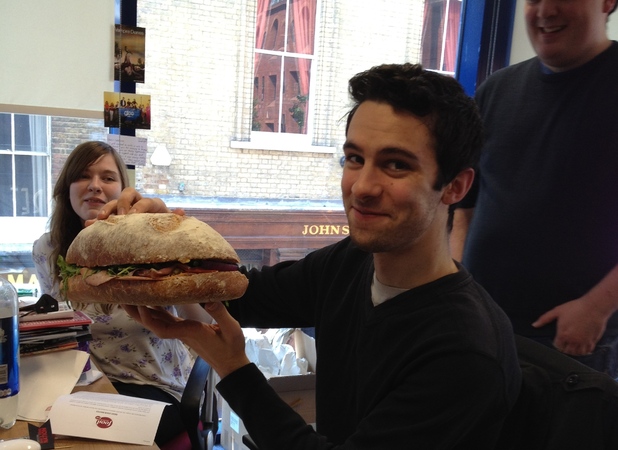 Courtesy of Food Network UK and the team behind
Man vs Food Nation
, our very own TV reporter
Morgan Jeffery
got sent a
massive
meaty sandwich.
Thankfully, it's not an exact copy of the 'World's Meatiest Sandwich' as featured on the show (1.2ft by 24-inches, with 41 types of meat, weighing two stone), but it's still pretty hefty!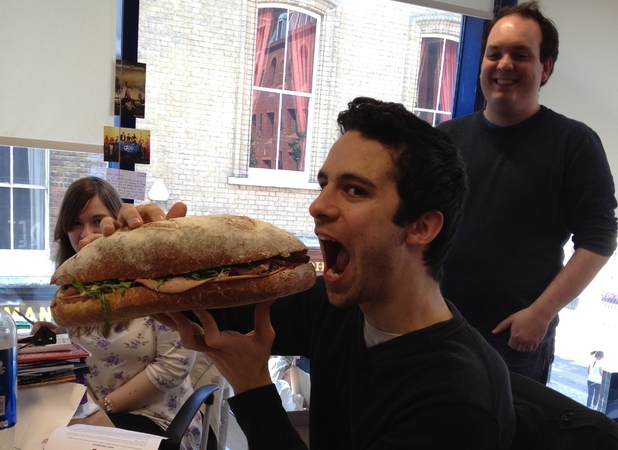 He's made a little bit of headway since the photographs were taken, but there's plenty left in the fridge. We're worried that life could imitate
The Simpsons
with Homer's famous rotten hoagie if he doesn't finish it off today.
Nick Thorogood at the station said: "We wanted to create a sandwich that embodies all the things that are at the heart of the
Man vs Food Nation
series - big dishes, big flavours and big challenges!
"The 'World's Meatiest Sandwich' is a truly epic creation and definitely a dish
Adam Richman
will be proud of."
Watch Richman take on his own 'World's Meatiest Sandwich' on
Man Vs Food
series one, which airs every day in May on Food Network UK at 5pm, 8.30pm and midnight.