York Minster has had a new carpet fitted which is made from 1,500 square metres of real grass.
The carpet, which has been laid in the nave of the building, is being prepared for the York Minster Rose Dinner that takes place this evening (June 8), the
Daily Mail
reports.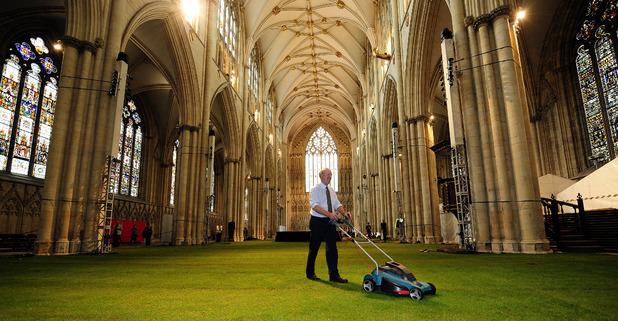 The dinner is thought to attract over 900 guests and is being held to celebrate the Queen's Diamond Jubilee, as well as to raise money for the York Minster Fund.
The live grass is called 'Wow! Grass!' and has been donated by local company Lindum which manufactures it. The product was first launched at last year's Chelsea Flower Show. The grass is grown in specially-adapted felt that is made from recycled British textiles, rather than soil.
This grass has been used at various other locations such as the indoor rugby pitch that was created at the Grosvenor Hotel in London and the mock village green at Trafalgar Square. They have also made grass sofas for the National Trust.
Cathedral Chamberlain Dr Richard Shephard said of the occasion: "The need for funds to restore and conserve the historic fabric of the Minster is never-ending and I am sure that this extraordinary event will do much to assist us in our work."
> 'Witch cottage' discovered in Lancashire
> Vicar breathes fire during sermon - picture