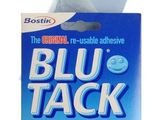 A Scottish primary school has been banned from using Blu-Tack in the classroom.
The teachers at the school have been told that the convenient adhesive may explode if it comes into contact with glass. In light of this revelation, children's work is not being proudly displayed as it has been removed from the windows.
The school building that is owned and administered by private companies was told that a chemical present in the putty-like product would react with a substance in glass, causing the glass to smash.
However, the school in Perth & Kinross has been left confused after the government health and safety myth-busting panel branded the claims as untrue.
Employment minister Chris Grayling said of the matter: "Whatever the reason for banning the use of Blu-Tack, it is not on health and safety grounds. The manufacturer's website makes clear that the product can be used on glass."
The ban has implications on teachers' lesson techniques and therefore on the way that the pupils learn.
> Babies to help reduce bullying in schools
> Teachers dance behind oblivious students - video