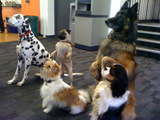 Brazil is to open the first ever 'love hotel' for pets.
According to reports, Fabiano Lourdes and his sister Daniela plan to open 'Animalle Mundo Pet', an eight-story building that will contain rooms complete with a heart-shaped ceiling mirror, mood lighting and red cushions.
Brazil is home to the world's second-largest dog population after the USA with a huge 32 million canines.
Fabiano said: "Our market studies showed that people work all day long and they do not know where to drop their pets for mating."
He added that the idea for the business came from the many love motels on offer to Brazilian couples who make use of them for romantic purposes.
The centre will have a pet fitness area as well as a place where they can celebrate their birthdays. The brother and sister's venture has so far cost them $1 million.
They employ 60 people, including vets and biologists, and will sell luxury pet accessories such as Swarovski crystal dog collars on sale for $1,000.
> Designer beds available for pets - pictures
> Online dating sites set up for dogs