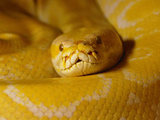 A Nepali man has bitten a snake to death.
Mohamed Salmo Miya chased the reptile and killed it after it bit him in a rice paddy he was working in on Tuesday (August 22),
Reuters
reports.
"I could have killed it with a stick but bit it with my teeth instead because I was angry," the 55-year-old said about the attack.
The Common Cobra, referred to as 'goman' in Nepal, is not listed as endangered in the country so Mohamed will not face charges.
He is currently recovering from his bite at a village health post.
> 13-month-old toddler bites head off snake
> 'Snake on a plane' forces Australian pilot to land
> Longest snake in captivity dies aged 18