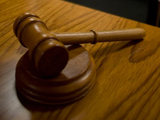 A retired police officer was caught illegally possessing nearly 650 wild bird eggs.
Michael Upson of Sotherton, Suffolk accumulated a collection of 649 eggs from nests he raided while he was working for Suffolk Police.
At Norwich Magistrates' Court yesterday, the 52-year-old was handed a suspended jail sentence.
Upson is also required to complete 150 hours of unpaid work in the community as well as pay £120 towards court costs.
Magistrate Eamon Lambert told the man: "Your actions had a marked effect on the bird population and a serious impact on the environment.
"The sheer number of the eggs... is a serious number and a crime against nature and our sentence will reflect this."
> Eggs 'can reveal your personality type'
> 12,000 eggs stolen from chicken farm