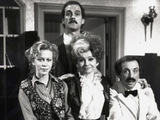 A struggling hotel has introduced
Fawlty Towers
theme weekends, taking inspiration from the '70s sitcom.
Hit by the recession, manager Lorraine Godwin - who plays the part of nagging wife Sybil Fawlty - enlisted the help of her son Tom to play Spanish waiter Manuel and boyfriend Andy Hillier as Basil.
Godwin, 51, said: "Andy is so good at playing Basil [that] I think if a producer comes here and sees him in action, he could end up in the West End.
"Basil will often pick on people but [the guests] love it."
Those staying at the Richmoor Hotel in Weymouth, Dorset are treated to Basil's insults as well as staff messing up their food orders, searching for an escaped rat and moving a fake corpse.
Godwin added: "When Manuel's rat turns up in the cheese and biscuits, we've had women screaming. Luckily, it's not a real rat."
The themed weekends have been a success for the hotel, and the establishment is planning to hold them more often.