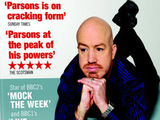 Frankie Boyle may have
shuffled off to more controversial waters
on Channel 4, but the
Mock the Week
ship sails on. Helmed by Dara O'Briain. it still features
Spitting Image
veteran
Andy Parsons
as a key member of the crew.
Following his debut DVD
Britain's Got Idiots Live
a couple of years ago, Andy has recorded brand new show
Gruntled
. We caught up with him to have a chat about all things funny, female and Frankie.
What does Gruntled mean?
"You usually have to come up with the name before you've written the show and the great thing about
Gruntled
is that it means virtually everything. Some people think it means the opposite of disgruntled, whereas in fact disgruntled actually means slightly
more
than gruntled. It can either mean happy or unhappy. It can mean virtually anything so I can throw anything into the tour."
What inspired the material?
"It's essentially based on David Cameron talking about the Happiness Index and how he would like the Office of National Statistics to come and tell him how happy Britain is. As a starting point, it's a fairly curious time to start asking how people were in the middle of an economic recession where he's making loads of people redundant. We then go on a journey from there!"
How different is the show from you on Mock the Week?
"There's quite a lot in the show talking about what you can and can't do on
Mock the Week
. Obviously there's various material that will be allowed on the DVD that the BBC on 9pm will never put out. Where the boundary to comedy lies is part of what's on the DVD. There is a lot of that DVD which will never, ever make it on to the telly for lots and lots of reasons."
Because it's risqué or too political?
"A little bit of both. Certainly the BBC are very sensitive about anything to do with religion. Anything to do with crime. They've all got this double compliance - you've got to tick one box, then tick another box, then you've got two other people to tick the box. This is hopefully just me ticking the box - that's what I like to do - and then it will go out. Provided there's a lawyer in a box somewhere who's happy we're all good."
Mock the Week still gets criticised for being too adversarial - what are your thoughts on that?
"It is the only panel show where you don't get asked individual questions. They'll never go, 'Andy what do you think?' There's always just a little comedy topic chucked up in the air and you've got six hungry comics going for it. And often you'll find there's seven hungry comics, because Dara will chuck the topic up in the air and in fact answer it himself - he's a very shrewd man... very shrewd!"
Some people say it's too 'male' - do you agree?
"There have been some fantastic female guests, but not all of them have wanted to come back. It's recorded for three hours and it gets boiled down to half an hour, and within that time you can feel that you've done some really good stuff but you'll never see it in the actual edit. So certain people have not been happy with how the edit's gone. People who have not been happy [think] they should go, 'It's your turn, what have you got to say' - but that isn't how the project was sold. That's the format and it's not going to change now."
What do you think about Frankie Boyle's controversial Tramadol Nights material?
"In terms of what Frankie got away with, other people on the
Mock the Week
won't be able to get away with quite the same leeway. The BBC has changed post-Russell Brand, post-Jonathan Ross. And obviously Channel 4 don't have quite the same guidelines, so you have a little bit more leeway with what you want to do."
What did you make of the fuss around his Harvey Price joke?
"Like all these things, if you take a joke out of context, you can always make a joke look far worse. Within a context a joke can look different. I think certainly if you've seen Frankie's live show, that joke would have just passed you by. Not in the same way that if you take it out and forensically examine it, it's a very different beast."
Another Mock the Week regular Michael McIntyre recently admitted that he was hurt by criticism from other comics - do you care about what other stand-ups think of you?
"They may pretend that they're not, but all comedians are sensitive and you always want your peers to like what you do. You realise that comedy's subjective and that there'll be people who like you and don't like you. But you never want to meet them or hear about them!"
You're still on the radio a lot, do you prefer that to TV?
"The live stuff is the best stuff. That's why it's great doing the tour, doing the DVD - because it's exactly you. You've written it, you're performing it - it's been filmed hopefully with some of your input. With radio or TV there's always other layers. There's producers, directors all the rest of it having their say and it's always slightly watered down. It's never exactly quite what you want. Your own DVD is exactly what you wanted to do."
Has stand-up reached a saturation point on TV?
"These things are very cyclical - for ages they said stand-up wouldn't work on TV, never works - and now everybody's having a crack at it. BBC, ITV - they can't get enough stand-up. And of course people go, 'There's too much'. Ratings will go off. In the same way that people say sketch comedy doesn't work or sitcom is dead, it will all come back in a different form at some point, but obviously while it's going strong it's great."
Show Me The Funny wasn't a ratings success - was it mistake to combine stand-up and reality TV competitions?
"I've never been a fan of those sorts of things. From a comic's perspective why you would necessarily want to perform in front of nurses or school children or rugby players? It's not the sort of gig you'd take normally, so why bother to take it on primetime ITV?"
Andy Parsons's new DVD Gruntled is out on November 14
Watch a trailer for Andy Parsons's
Gruntled
below: