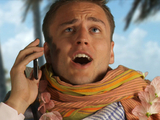 The original Gap Yah viral video has received more than four million hits since its debut in February 2010. It has spawned a number of sequels and success for its creator
Matt Lacey
, as well as The Unexpected Items comedy troupe of which he is a member.
Lacey has now joined forces with
BIC
, the brand behind those fancy four-colour pens, for their Gapaway competition which gives four budding Gap Yah students the chance to win a four-week break. One of the winning quartet will also get a whopping £4,000 towards their tuition fees. We at
Digital Spy
got on the phone to ask him all about it.
How did your collaboration with BIC come about?
"They got in touch and they've come up with this concept of giving away four free travel packages. I seemed a natural hook for that. It just so happened that I had a book published last Christmas and I'd done all the illustrations with a BIC four-colour pen, which made me chuckle when they came to see me."
Where did the idea for Orlando come from?
"I first wrote and performed the character at Oxford when I was at university. He's a composite of people I met or just overheard braying in various nightspots. It just started off as a silly voice to take the p*ss out of a posh friend of mine, but because I was writing and performing comedy I developed it more into a character and a routine."
How did he go down among your fellow Oxford students?
"Sometimes people quite like having jokes at their expense in a way. It makes them feel included. A lot of comments on YouTube say, 'OMG this is just like me'. My favourite is when people come up to me and say, 'OMG, your sketch is literally just like my flatmate Tarquin'. I'm like, 'No, it's you, it's you!'"
Orlando is quite loveable - was that always your plan?
"His intentions are good, it's more that his points of reference are completely out of the window. He doesn't quite realise how much of a chump he is."
Why do you think that Gap Yah connected with the media in a way that many other virals don't manage?
"It came out around the time of the election. There was a big
[Evening] Standard
piece saying 'Now the Yahs are having the last laugh'. It was a hook to hang articles talking about how the posh are running the country. I think everyone was coming to terms with the top three jobs all being for Bullingdon Club members. It's a bit tragic really."
Do you still tour with The Unexpected Items?
"We've got some gigs coming up. The first one is this Wednesday at the Hen and Chickens. It's a new show, work-in-progress but it's all set around an ailing record label. We're developing projects and hopefully pitching to TV and radio, but it's a difficult game. We're hoping to maybe get something on the radio."
Is a TV sketch show the goal?
"Well, yeah. The thing about sketch comedy is that it's not really financially viable in the way that doing stand-up is. In the mixed-bill slots that stand-ups do you'll probably get about £50-£60 and you can do a couple of them a night. But if you're splitting that between four people... and sketch groups aren't always wanted in the same places that stand-ups are. It's not really something that you can make a living out of, so I think for any sketch group radio and TV is the goal."
The Fast Show cast suggested that panel shows are crowding out sketch, would you agree?
"I think panel shows is a very crowded format and I think that some of them slightly are clutching at straws for a reason to exist. 'We're the panel show that talks about dogs.' I do really like watching
...Buzzcocks
and
Have I Got News For You
, but there's only so many you can have - but that doesn't seem to be the case. Sketch does still make it onto TV and radio, the trouble is panel shows are quite cheap to make. You just have to get the people and sit them round a desk whereas for a sketch show you need multiple cameras, location, script, script editors. And the end of that it could really bomb - a panel show doesn't tend to bomb."
What do you think of the effect of YouTube and the web on comedy and sketch?
"There is a question of how to pay for quality stuff to be made. That's part of working with brands.
The Fast Show
was made through Foster's money. I think comedians are getting a lot less snooty about working with brands and embracing the fact that no-one else is going to do it. YouTube is quite a natural home for sketch comedy. The format really works. You only have about 2-3 minutes which is about as long as a sketch."
Were you worried about accusations of selling out by working with BIC?
"It's certainly something I thought about. But that's the nice thing about the internet. People don't have to watch the clips if they don't want to. It's not like it's coming up on their Spotify. people who like them will watch them. Also, BIC's quite a cool brand, it's not like I'm with Nestlé trying to sell powdered milk. I think it's certainly something to think about."
Your team's LOLestation sketch reminded me a lot of Brass Eye - would working with someone like Chris Morris appeal?
"We're all huge fans of
Brass Eye
in the group. Our online channel's quite varied. That one's quite
Brass Eye
, but you've got more set-piece sketches that are almost
Fast Show
-ish then you've characters that are quite Harry Enfield. In terms of my influences, I would lean more towards character comedy - Harry Enfield or Sacha Baron Cohen, rather than situation stuff."
Did Orlando and Gap Yah's success cause any friction with the rest of your group?
"It certainly could have done, but we all get on very well. It's been so overwhelmingly positive for the group. We got some really good crowds up at Edinburgh, part of it through name recognition around the sketch. We've played some great festivals - Glastonbury and Latitude. We've run from a much smaller acting agent to PBJ, where Eddie Izzard is at the Christmas party, and Armando Iannucci, which is deeply exciting!"
Enter the BIC 4 Colours Gapaway competition here
Matt Lacey performs with The Unexpected Items at the Hen and Chickens this Wednesday.