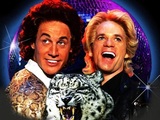 Hot
on the heels of Watson & Oliver
, the latest comedy duo to get their self-titled sketch show on the screen are Seb Cardinal and Dustin Demri-Burns.
Known collectively as
Cardinal Burns
, the pair's
first series aired this spring on E4
, and the DVD is on sale now.
To mark its release and the team's upcoming shows at London's Udderbelly and the Edinburgh Fringe,
Digital Spy
sat down with Cardinal and Burns to talk all things comedy.
Were you happy with the reaction when the show aired?Dustin:
"I was so, so happy that people were getting what we were doing. We were very lucky in that we got to make the show we wanted to make - our humour. There's always the risk that people won't go for it."
Was there any interference from Channel 4?Seb:
"There was some really helpful advice, they had some good notes for us. They steered us a little bit on a few occasions, but they didn't interfere really, did they?"
Dustin:
"No, we worked quite well as a team."
Seb:
"We tended to agree on a lot of stuff. We'd have read-throughs and then it would be obvious what wasn't working and we'd all be on the same page."
Do you think sketch comedy is having a resurgence at the moment?Dustin:
"Not really, there's always sketch shows, they come and go and they're good and they're not."
Seb:
"People are always making sketch shows. It is weird when people say 'Is that the end of sketch shows?' You wouldn't say 'Is that the end of dramas?'. It's a really good format. It's short, funny."
Dustin:
"We have lots of characters and lots of short ideas and it's a good starting point for us. We want to do narrative stuff, film - but I think sketch is a really perfect way to start."
You both met at film school - does that influence bleed into your work?Dustin:
"Yeah, I think a lot of our references are cinematic and we draw on a lot of that."
Would you ever go on a panel show?Dustin:
"We've spoken about it. It's not our thing. We don't really watch them. Nothing against them, it's not our taste."
Seb:
"It's so different from what we do. We do characters."
Dustin:
"We're performers, rather than pundits or personalities. The idea of us appearing as ourselves on telly commenting on the week's news is not quite for us."
Does it feel different going to Edinburgh this year now you've been on TV with the show?Dustin:
"There's less pressure..."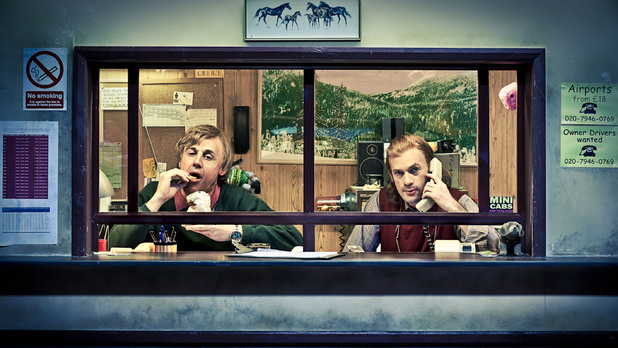 Less pressure?!Seb:
"In terms of, we're not going out there to try to get something out of the show, but then people will have seen the show, so their expectations are going to be really high. So it's different. Whenever you think about the pressure it takes all the fun out of it, and we just love doing live gigs. And it's five nights."
Dustin:
"You do it 'cos you love it, you wouldn't do it otherwise, but sometimes you're doing it as a sort of career thing, but this time we're doing five nights because we can and because it's fun."
Have you heard anything yet about a second series?Dustin:
"They're discussing it."
Seb:
"Yeah, we don't know."
Has YouTube and the web changed what you do?Seb:
"It's really helped us, because as well as doing the live show, taking Cardinal Burns to Edinburgh we just filmed a sketch called 'Fiery Hawk'. It helped commissioners recognise that we could film sketches and that they could work, so we were just proving that we could do it.
"It's really fun that you've got this platform that you can get this camera and editing equipment and just put it out there immediately and have an audience immediately and it gives you a bit of control over your own work."
Is there a space for exclusively online comedy?Seb:
"I think more and more that'll start happening."
But were you always aiming to broadcast on TV?Seb:
"You just reach a wider audience instantly, and our show's been quite ambitious. It had to have a certain budget to be able to do that. There isn't anything in the UK online, even in America I don't think, that would have that sort of budget."
Dustin:
"I think it's nice as well because everyone's watching at the same time and it's a collective thing. The only problem with the internet is it's such an individual thing, you can click on it whenever you want, it kind of kills it... especially for comedy, it's a shared experience."
Did you go on Twitter and see the reaction when the show was on TV?Dustin:
"A little bit. We did have a little look. Luckily it was mostly positive."
Comedy seems so divisive when it comes to opinions - why do you think that is?Dustin:
"It really angers people!"
Seb:
"They take it very, very personally."
Dustin:
"I think if something's set up to say, 'This is funny, this is going to make you laugh'..."
Seb:
"It's very black and white. You're either laughing or you're not. If you're not laughing, to the person watching it you're not doing your job properly. It's this huge disappointment to them. I sometimes read stuff and go, 'Why are you being so angry?', but I've done that before. It's very strange?"
If the DVD sells millions, will you be putting your money somewhere in Jersey?Dustin:
"No comment!"
Seb:
"I think we'd both pay our taxes!"
Do you worry about people ringing your accountants, digging stuff up about you as you get more well-known?Dustin:
"I think like we said before about panel shows, because we're not putting ourselves out there as Seb and Dust, as personalities, I think people tend to leave you alone. Stand-ups are a bit more exposed."
What other plans have you got apart from the sketches and live shows?Dustin:
"We want to write narrative. We've got a sitcom idea we're trying to develop."
Would you want to star in it?Seb:
"I think at the moment we'd want to star in it, because it's fun. You're so involved in every part of the process."
Cardinal Burns Season 1 is out now on DVD.

Cardinal Burns will be performing a live show at the Udderbelly, London on Tuesday, July 3. Book tickets here.