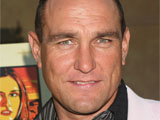 Vinnie Jones
has offered his support to Calum Best as he takes on a 50-day vow of celibacy.
Best is currently filming reality show
The Best Is Yet To Come
and Jones revealed that the celibacy pledge is testing the model's resolve.
Jones, who manages the celebrity football team Best plays for, is quoted by
WENN
as saying: "One of our players is a porn star so he brought a lot of girls with him to tease Calum.
"He's on a 50-day no sex thing and so, of course, all the girls are getting their boobs out and there's nothing he could do about it."
Jones added that Best had "a lie detector test every morning" to make sure he was keeping to his vow.