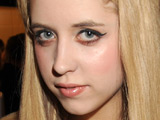 Peaches Geldof
has admitted that she has taken drugs but dismissed her alleged recent overdose as a "bad experience".
The socialite was reported to have suffered a
drug overdose
last month. However, a representative later
claimed
that she had fallen unconscious after inhaling fumes from hair dye.
Geldof told
The Sun
that experimenting with drugs was "something people go through in their lives, especially growing up in London".
The 19-year-old was keen to play down comparisons with her mother Paula Yates, who died from an accidental heroin overdose in 2000.
"If she died in a car crash, does it mean I'd have to run out in front of a car and it'd be history repeating itself?" said Geldof.