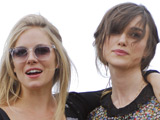 Keira Knightley
has revealed that she no longer sees Sienna Miller.
The pair became friends while filming
The Edge Of Love
. However, in an interview with
Glamour
, Knightley likened their relationship to "two ships passing in the night".
She said: "I think that's what's lovely but also sad about acting. You get incredibly close to people and as soon as it's over, you don't see each other. You're away from home, it's a very intense relationship and then it's not anymore."
The actress added that she finds it easier to be friends with men than women.
She explained: "I don't think I'm very good at figuring out female friendships. I think they're quite tricky to navigate. I have a lot of friends who are guys and I find that manipulation and jealousy don't come into it as much, whereas those things can happen easily between women."
> Click here for our recent interview with Keira and Sienna