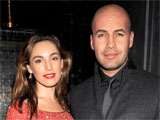 Kelly Brook
has reportedly ended her relationship with actor Billy Zane.
According to
The Mirror
, Brook told the
Titanic
star that their four-year romance was over in a phone call last week.
Brook and Zane temporarily
split
in April, but got back together and enjoyed holidays in France and Ibiza during the summer.
"She's glad she got back together with him to give things another go," said a source. "She was desperate to save their relationship but, at the end of the day, it just wasn't to be.
"They're both comfortable with the situation and Kelly seems to be quite looking forward to being a single girl again."
The insider added: "They're still the best of friends but any romantic spark has well and truly gone. It's really sad but there's no-one else involved."