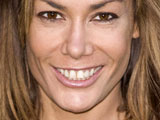 Tara Palmer-Tomkinson
has admitted that she is keen for the public to stop doubting her sobriety.
The TV personality checked into rehab in 1999 and successfully battled her cocaine addiction. Despite being clean for years, Tara has complained that people still assume the worst of her.
"It's so annoying when people assume I'm still off my head on drink and drugs just because I'm exuberant and eccentric," Tara explained. "I enjoy a glass of wine, but I just don't like alcohol enough to overdo it.
"I have a minibar in my bedroom, but I keep my eye gels in there, not champagne. My only vices now are cigarettes and coffee."
Palmer-Tomkinson has been busy putting together her debut album following her success on
Comic Relief Does Fame Academy
last year.
"It's my autobiography. I've written about everything from narcotics to my love life," she revealed. "I'd never write a book because I don't believe in kissing and telling, but this has been about getting my feelings down on paper."