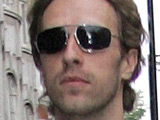 Coldplay's Chris Martin has said that his band never wreck hotel rooms because he used to be a cleaner.
The 31-year-old frontman claimed he couldn't bear to think about the staff forced to tidy up after them if they ruined their accommodation.
"When you're a cleaner and you walk into a trashed room, it's truly annoying," Martin told
The Sun
.
"All you want to do is go on your tea break - and you get faced with that."
He added: "Spare a thought for the poor schmuck cleaning the room."