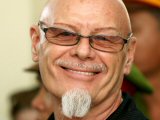 Disgraced popstar
Gary Glitter
arrived at Heathrow Airport in the UK this morning.
The singer, 64, who has reportedly been attempting to avoid a return to Britain, landed on a Thai Airways flight from Bangkok at 7am.
After being released from prison in Vietnam on Tuesday, where he served a jail term for abusing two girls, the convicted paedophile was denied access to Hong Kong and Thailand.
Glitter was met by police officers from Operation Jigsaw, who monitor paedophile and other serious criminal activity. He was also issued an order, which will put him on the sex offenders' register.
He will be subject to police monitoring and must tell police if he plans to leave the country. He can live where he wants in the UK, but must inform the authorities of his address.
The glam rock musician was previously placed on the sex offenders' register after being jailed in 1999 for possessing images of child abuse.