Showbiz News
Barton 'writhed in front of Josh Hartnett'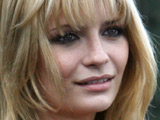 Mischa Barton
allegedly spent an hour "writhing" in front of actor Josh Hartnett at London's Bungalow 8 club, according to the
Daily Mail
.
Hartnett, who is appearing in the Apollo Theatre's production of
Rain Man
, was reportedly out with Kings of Leon drummer Nathan Followill when Barton spotted him.
A source is quoted as saying: "Josh looked pretty bored and was totally ignoring Mischa. She persisted, though, and kept getting closer and closer to their table while dancing provocatively.
"Lots of girls were trying to get near their table, where the two guys were drinking champagne and vodka cocktails. Mischa had a lot to contend with, but didn't give up."
Barton supposedly left the club with Hartnett and a group of friends at 1.30am, then returned to her hotel an hour later.