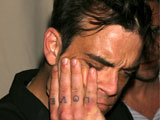 Robbie Williams
has split from his long-term girlfriend Ayda Field,
The Mirror
claims.
The couple, who were
rumoured
to have parted ways in July, have allegedly chosen to end their relationship after Williams shifted his focus to recording a new album.
A source is quoted as saying: "Robbie is absolutely gutted the relationship has ended. He thought Ayda was his soulmate, and the most beautiful woman he has ever met, so he was desperate for it to work.
"Unfortunately, the timing was not right for them, and after being on-off for a while they've finally decided to call it quits.
"They are still very good friends though and she was the only girlfriend his close-knit circle in LA actually accepted and genuinely liked.
"But Robbie is dead serious about his music, it's his number one focus. He's in the recording studio 24/7 working on his best tracks yet."