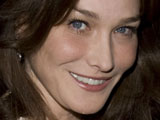 The President of France is sometimes woken in the night by his wife's music, it has been revealed.
Carla Bruni
made the admission as she appeared on music TV show
Later... With Jools Holland
.
The singer-songwriter said her husband Nicolas Sarkozy was "very kind" about her music and sometimes even helped.
"I disturb him with it in the middle of the night," she said. "It's a very different world for him but he's very kind and listens to all my doubts."
The former supermodel, who married Sarkozy in February, was given a warm reception on the music show.
Other acts on the bill were Metallica, UK rapper Sway, New Jersey singer Nicole Atkins and British pop newcomer W. Brown.