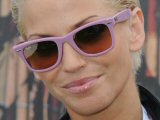 Sarah Harding
has insisted that she has never had a one-night stand.
Harding, 26, rejected rumours that she has a promiscuous lifestyle and slated a newspaper report branding her the "slapper" of Girls Aloud.
"One paper called me the 'slapper' of the band. I don't think so," she wrote in the group's upcoming autobiography
Dreams That Glitter
. "I've never even had a one-night stand. I have lots of male friends but that doesn't mean I'm linked romantically with all of them.
"I think going out with the wrong men has taught me what not to accept and as I've got older I've become stronger. I won't tolerate certain behaviour, men thinking they can walk all over me, and I think some of them are threatened by that..."
Harding revealed that she is happy in her current relationship with DJ Tom Crane, saying: "Tommy's really only my third long-term relationship and it did feel different when we got together.
"I'm hoping to settle down with Tommy and have marriage and kids and all that."