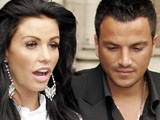 Peter Andre
has slammed internet slurs made about his one-year-old daughter.
The 35-year-old 'Mysterious Girl' singer, voted
father of the year
in June, is furious with remarks against Princess Tiáamii on a popular website.
"The truth is, neither Kate [Price] nor I have seen it," he wrote in his
New!
diary.
"But the thought of anyone writing anything malicious about our beautiful little girl makes me absolutely furious. I don't get angry often, but when I heard about this I was livid.
"Why would anyone say hurtful things about an innocent one-year-old who is unable to defend herself? Whoever these people are should be ashamed of themselves."
> Andre: 'LA move is not to fix marriage'