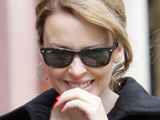 Kylie Minogue
has announced plans to relaunch her acting career in the future.
The Aussie popstar, who first found fame on
Neighbours
, has rediscovered her love for TV work since she guest starred in the
Doctor Who
Christmas special last year.
"I started out as an actress and I thought if I was lucky that would be my career," Minogue explained. "Then I started singing and I was in that weird space where people say: 'You can't be a singer, you're an actress.' Then they're saying: 'Well you're a singer, you can't be an actress.'
"I hate that! If you're creative, there's no reason you shouldn't work in different mediums. Recording and being a performer, thankfully that's gone really well, but now I'm starting to think again about acting."
Minogue named comedy as her preferred genre, adding: "It's so much fun. It's where I come from so I'm very comfortable to go back to that. It's not that well known that I'm funny, but I am funny. People who know me will tell you."