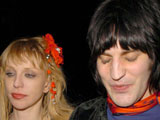 The Mighty Boosh
's
Noel Fielding
has confessed to wearing clothes that were once worn by rock star Courtney Love.
The comic told
NME
that he wants to pass on the T-shirt, originally belonging to model Helena Christensen, to another celebrity.
"This T-shirt is quite a special T-shirt for me," he said. "Courtney Love gave it to me. She got it off Helena Christensen and she gave it to me, so I think I have to give it to someone."
When asked who he would hand the item of clothing to, he replied: "I don't know who I'm going to give it to - maybe Daley Thompson or I don't know, Jerry Lee Lewis."