Showbiz News
Hucknall blasts Gallagher's Northern cliché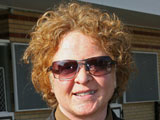 Mick Hucknall
has accused the Gallagher brothers of making Northerners look stupid.
The Simply Red singer said that Noel and Liam had boosted their careers by playing up to a stereotype of people from Manchester.
"I love that Harry Enfield sketch when Kathy Burke comes back from a weekend in Manchester walking with a Liam gait and goes, 'F***ing sound. Banging'.
"[The Gallaghers] have made a cliché out of presenting Northerners, especially Mancunians, like that."
Hucknall has fallen out with the Oasis duo in the past and was famously involved in a brawl with Liam at London's Metropolitan Hotel in 1998.