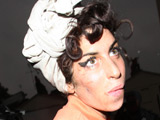 Amy Winehouse
was taken to hospital after collapsing at the weekend in what is claimed to have been a drink and drug related seizure.
A spokesman for the singer said her hospitalisation on Sunday was due to a "bad reaction to the combination of medication she has currently been prescribed".
However, a friend told
The Sun
that the 25-year-old went on a 24-hour binge after a blazing telephone argument with her husband Blake Fielder-Civil.
The source said: "They had a screaming row. She was beside herself after the call - and she just totally lost it. It didn't stop until she was on the floor on Sunday.
"She has ended up in hospital a few times after similar drink and drugs related seizures. If she carries on, one of these incidents will be her last."
While the
Back To Black
singer recovered in hospital, Fielder-Civil
failed
in a legal bid to have his 27-month jail sentence reduced for assault and attempting to pervert the course of justice. He is currently receiving rehab in Surrey as part of the terms of his early release.
Winehouse was
diagnosed
with the early stages of emphysema in June and
spent
a short spell in hospital last month due to a suspected chest infection.