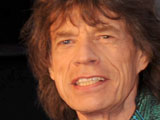 The hometown of
Rolling Stones
Mick Jagger and Keith Richards is to honour the band by naming roads after some of the group's hit songs.
Thirteen streets on a new £400 million housing estate in Dartford, Kent will be christened with the titles of some of the band's greatest hits.
Among the names already approved by councillors are Little Red Walk, Satisfaction Street and Ruby Tuesday Drive.
Council leader Jeremy Kite said: "It's a very groovy development - a very modern, creative community and I think people will enjoy the street names.
"We are very proud of the Rolling Stones and it is a little bit of our history we can celebrate."
He added: "It's not just fun. It puts the place on the map and links to our heritage."