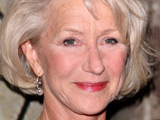 Helen Mirren
has hailed Brendan Fraser as a hero.
The actress was required to run down a cobbled street in high heels for a scene in new movie
Inkheart
when Fraser stepped in to help her.
"That's when my darling Brendan took me by the arm and basically lifted me off the ground so my feet were in the air," she said. "He's so strong, he just swept me down the road."
Oscar-winner Mirren plays Elinor Loredan in the film, which revolves around a father who brings storybook characters to life when he reads aloud.
> Click here for our review of Inkheart