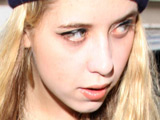 Peaches Geldof
has dismissed rumours that she still takes drugs.
The socialite denied that she uses any recreational substances and claimed that she does not even drink alcohol any more.
"I have had bad experiences with drugs and I haven't taken drugs for a while," she told the
Evening Standard
.
"The experiences aren't ones I want to repeat but I was growing up. I wasn't hugely into drugs and I'm sober now. I'm not Amy Winehouse and I never have been. I'm not a crackhead.
"I haven't even had a social drink for a while. I just decided I couldn't be bothered."
The star went on to criticise people who have compared her lifestyle to her late mother Paula Yates, who died of a heroin overdose in 2000.
"It's bewildering because I think it's very sick," she said. "It's like a Peaches Geldof watch, 'I wonder if she's going to die like her mum. Let's count the days until she dies like her mum. Let's nudge her and put that slant on it.'
"It's sick. It's not fair on my family and it's not fair on my sisters."
Geldof
reportedly
suffered a suspected drug overdose in July 2008.