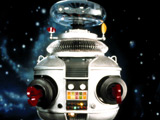 Bob May
has died from congestive heart failure in LA at the age of 69.
The veteran actor and stuntman was best known for playing The Robot in the 1960s TV show
Lost In Space
.
May also appeared in films with Jerry Lewis and TV shows such as
The Time Tunnel
,
McHale's Navy
and
The Red Skelton Show
during his acting and stunt career.
Lost In Space
matriarch June Lockhart said: "He always said he got the job because he fit in the robot suit. It was one of those wonderful Hollywood stories. He just happened to be on the studio lot when someone saw him and sent him to see Irwin Allen about the part.
"Allen said, 'If you can fit in the suit, you've got the job'."
The grandson of vaudeville comedian Chic Johnson, May was introduced to show business aged just two when he appeared in the Hellzapoppin comedy revue.
Last year, he and his wife escaped without injury when their Californian home was destroyed by fire.