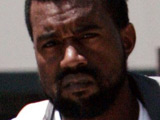 Kanye West
has revealed that he was "completely devastated" to learn about the alleged attack on Rihanna.
The singer reportedly suffered
"horrific"
injuries in an alleged altercation with her boyfriend Chris Brown on Sunday morning.
Speaking to Ryan Seacrest on his
KIIS-FM
radio show, West said: "I don't want to speak too much on it but I was completely devastated by the concept of what I heard.
"It's so devastating... As a person, I don't care how famous she is or if she just worked at McDonald's, that should never happen. It should never come to that place."
The rapper, who toured with Rihanna on his 'Glow In The Dark' jaunt, added that she has his full support.
"She has the potential to be the biggest artist of all time," he said. "In that sense, I feel like that's my baby sis and I would do anything and everything to help her in any situation."
Representatives for Rihanna have declined to comment, saying only that she is "well".