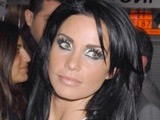 Katie Price
has revealed that she was sexually abused by a stranger at the age of six, a report claims today.
The glamour model is believed to have spoken about the ordeal for the first time in a TV interview with Piers Morgan, which is due to be broadcast next weekend.
According to the
News Of The World
, Price explained that the incident occurred while she played hide and seek at a park close to her home. It is believed that the attacker exposed himself to Price and one of her friends, before touching both girls.
"[It was] some weirdo. Oh, you know what I'm saying. Just some weirdo in a park," Price is quoted by the newspaper as saying.
After struggling to compose herself, she continued: "Well, it's never affected me. But obviously it must have done, for me to just feel like that. But I don't know. You just learn to get on with things, don't you? I haven't got a problem normally with it so I don't know why I do have a problem with it now."
Price added that, though the incident was investigated by police, her attacker was never caught.
The star's interview will be aired on
Piers Morgan's Life Stories
on ITV1 next Sunday.