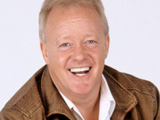 Keith Chegwin
has admitted that his latest stunt did not go to plan after he was mobbed by a crowd of more than 200 people.
The former GMTV presenter had agreed to do a "coat of cash" run in which he was covered with £1,000 in £5 notes.
However, before Chegwin could get to the start line for his Plymouth city centre dash, he had been stripped of all of the money, reports the
Daily Mail
.
He explained: "We had this idea about running from here to the TV screens about 100 yards away but it just didn't happen.
"They just grabbed the cash. It was pretty manic but at least I managed to stay up. It took no more than about three seconds for them to totally strip all the cash from me. It was all a little scary as I was totally penned in by everyone - it was pretty crazy."
A witness described the scene as akin to a "rugby scrum", adding: "Poor Cheggers didn't stand a chance, the money was gone in seconds and he look pretty flustered about it."