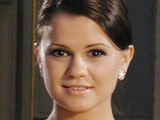 Kerry Katona
has denied tabloid claims that she has become heavily addicted to cocaine in a bid to cope with her rocky marriage to Mark Croft.
According to the
News Of The World
, the reality star had begun indulging in three-day drug binges that had left her on the brink of suicide. She was also reported to be taking amphetamines and anti-depressants.
Speaking to
Mail Online
, a representative for Katona insisted that the report was untrue, saying: "[It] has made several extremely defamatory allegations about Kerry Katona and drug abuse.
"These allegations are completely untrue and we will be speaking to our solicitors about taking legal action against this story."
The 28-year-old announced that she was
divorcing
former cab driver Croft earlier this month, amid claims that they had argued over their finances.
However, the couple, who have two children together, are thought to have since
patched up
their differences after being spotted spending time together last week.