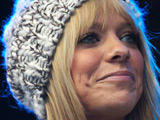 Liz McClarnon
has criticised British food, describing it as "stodgy".
The
Celebrity Masterchef
victor claimed that our diet has only improved in recent times after drawing culinary inspiration from different cultures around the world.
"I think British food is quite stodgy because of the weather, but these days we take so much from other countries and cultures into our food," she told
DS
.
"For example, chicken korma doesn't actually exist in India - it's a British adaptation of curry, so technically it's a British dish. It's the same with tea - it's not really English originally but we all drink it!"
The former Atomic Kitten singer admitted that she is in high demand at dinner parties since winning the cheffing competition last year.
"My boyfriend, my brother and all his friends are always getting me round to cook them up big meals," she said.
"I don't feel too much pressure in front of a small number of people but it was a lot harder cooking 1,000 free dinners at the Ask Jeeves launch a couple weeks ago. People could always turn around and say, 'That was sh*t', so I was a lot more scared."
> Click here to read our full interview with Liz McClarnon