Showbiz News
'EastEnders' star 'targeted by murderer'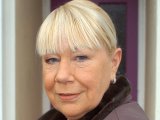 A man charged with murdering two French students reportedly planned to burgle the home of
EastEnders
star
Laila Morse
.
The Old Bailey was told how Dano Sonnex, 23, had talked about robbing the south London home of Morse, who plays Mo in the BBC soap.
The 63-year-old actress called police at 5am after hearing disturbance outside her property, just half an hour after students Laurent Bonomo and Gabriel Ferez were stabbed to death 244 times.
A neighbour went on to describe the moment she saw Sonnex attempt to rob Morse's house.
"At about 4.30am I was woken up by a noise. Something made me get out of bed and go to a window,"
Metro
quotes Sue Ann Blomfield as saying.
"I saw a man. He wasn't in the room but had his hands on the window frame. I had the impression he was going to try and climb in.
"I said, 'What the f' are you doing?' The man was standing on the conservatory. He put a hand up to cover his face.
"He said, 'Is this Mo's house?' I said, 'No, it's my house'. I was alarmed because I was expecting a cat. He said, 'I want her signature'. I again told him to f' off."
Sonnex, of Peckham, London, has admitted a count of burglary.