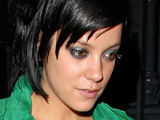 Lily Allen
has revealed that she has signed a modelling contract.
The
'Not Fair'
singer confirmed that she had agreed a deal with a company but refused to reveal information until a later date.
"I have been doing modelling for a company, which I don't know if I can talk about yet, so I won't," she told
Capital Radio
.
However the star confirmed that she was yet to gain confidence being photographed professionally.
"I am quite unnatural in front of the camera, especially when you are working with fashion photographers just because the nature of the people they are used to working with is very different from me," she added.
"I always feel a little self conscious, because I am 5ft 2 and size 12."
Allen went on to reveal that she had further areas to explore beyond her music career within the next twelve months.
"I am doing a line of jewellery which will be out the back end of this year."
> Click here to read our review of Lily Allen's album It's Not Me, It's You