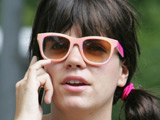 Lily Allen
has mocked Mike Skinner in the latest phase of their ongoing war of words.
The pair have been
feuding
via the media and on their respective
Twitter pages
since Skinner accused Allen of
craving
the attention of the paparazzi last year.
Allen today suggested that Skinner, aka The Streets, has a two-inch penis after he wrote on his Twitter page: "Now is not the time for d*ck measuring."
The
'Not Fair'
singer responded: "Hmmmmm. That may be quite tricky. Do they make two-inch rulers?"
Allen then conceded that one of her followers on the site had a "good point" when he noted that larger rulers can be used to measure smaller objects by virtue of their design.