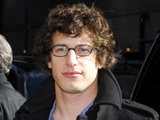 Andy Samberg
has said that he "bawled" after hearing Susan Boyle sing.
In an interview with
E!
, the comedian recalled the moment he watched the
Britain's Got Talent
star singing 'I Dreamed a Dream' for the first time.
"I came home pretty intoxicated once and discovered the 'I Dreamed a Dream' clip and watched it like seven times in a row and just bawled," the
Saturday Night Live
star said.
He added: "I don't generally just cry when I'm drunk; I get drunk and have fun. But it was a joyful cry. It wasn't like upset. For some reason, the combination of her voice and that song and the super over the top editing of that show really, really struck a chord with me."
Samberg will
host
the MTV Movie Awards this Sunday.