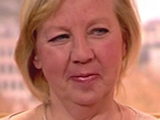 Deborah Meaden
has said that she was happy to be impersonated by Harry Enfield on his sketch show with Paul Whitehouse.
The
Dragons' Den
panellist was spoofed by Enfield on
Harry & Paul
but told him that she was thrilled by the parody when they met at the ballet.
Meaden told the
Daily Mail
: "He said: 'Are you all right with it?' I said: 'I'm flattered, you know who I am. You're a comic genius.'
"In fact, James [Caan] wasn't in the spoof, and if I were James I'd be mortified."
Of being recognised in public, she added: "I don't find it irritating and there is no point me complaining about it. I chose to be in the media and it goes with it.
"I don't get people who put themselves out there and then complain about the fact that they get attention."
Show producers are currently inviting applicants for the next series of
Dragons' Den
.