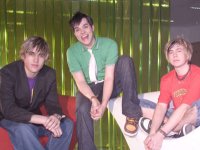 The Tories are receiving backing from an unlikely source in the next General Election - British boyband Busted.
The three-piece group voiced their anger at Labour tax increases which have hit their newly-bulging pockets hard.
"I don't really like talking about politics but I've always grown up with their views — the Tories' way of doing things," frontman Charlie Simpson, 19, told
Tatler
magazine. "I just prefer it."
Bandmate Matt Jay, 20, voted for the Liberal Democrats in a recent local election but will be switching sides next May. "Yeah, actually, you know what, I am not going to be ripped off any more," he added. "From the financial position I am in now, I am a f***ing Tory boy too."
Conservative leader Michael Howard admitted today that he didn't know who Busted were until recently but welcomed their backing. "I didn't know them but I am becoming more familiar with them," he told
Sky News
. "But I am very pleased they are supporting us."