Showbiz News
Heaton: 'Price suspected Andre might leave'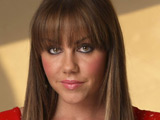 Michelle Heaton has claimed that
Katie Price
suspected that Peter Andre was planning to leave her two months before they eventually split.
The former Liberty X singer, who was a bridesmaid at the couple's wedding in 2005, told
The People
that Price had a "gut instinct" that Andre wanted out of their marriage.
"Kate wasn't surprised that he'd left. She'd even said to me on a few occasions, 'Pete's going to leave me one of these days' but I thought it was a joke," she explained.
"Pete had his reason for going and he told her why. Whether it's a justifiable reason or not, I don't know. People will have to judge for themselves when it comes out. But he wanted out."
Heaton went on to defend her friend from the criticism that she has received in the wake of the couple's break-up, insisting: "Peter broke Kate's heart. She was planning to have another baby and now he's left her.
"She doesn't expect sympathy but she deserves a bit of respect because the way she has been treated, and is being portrayed, is disgusting."
She added that Price recently broke down at a karaoke event when she attempted to sing Whitney Houston's 'I Will Always Love You', which was played at her wedding to Andre.
"Katie had to stop and told me, 'I can't believe it's over, I can't believe he left me'. Then she dried her eyes and said, 'But I'll never take him back'."
> Katie Price: 'Jordan is not back!'