Showbiz News
Houghton: 'Glamour was a big mistake'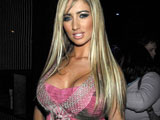 Chantelle Houghton
has vowed to change her public image after growing tired of being perceived as "fake".
The
Celebrity Big Brother
winner confirmed that she is turning her back on glamour modelling and tanning after receiving advice from her new manager, who also represents popstar Peter Andre.
Reflecting on her past career choices in an interview with
heat
magazine, Houghton admitted: "I hated a lot of it because I felt like I was putting on an act. I didn't like doing all the poses.
"I didn't feel like it was me, stripping off. It was horrible. I went down the wrong route. It was a big mistake. I had people tell me that I needed to lose weight, put lots of make-up on, go out, etc.
"Looking back I can't believe the amount of make-up I used to wear. I don't even use fake tan anymore."
Houghton first
promised
to change her ways in March, criticising the WAG lifestyle following her failed relationship with Jermain Defoe.
Speaking at the time, she commented: "Expensive shoes don't make you happy, they really don't. Most of these WAGs used to have nothing and now have their expensive bags, tans and outfits. But those things don't mean a thing when your boyfriend's cheating on you."