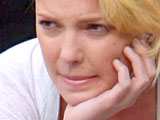 Katherine Heigl
has admitted that her rule-breaking ways make her "not very good" at being a wife to husband Josh Kelley.
The Ugly Truth
star said that she doesn't adhere to atypical courtship practices.
She told
People
: "I'm not very good at being a wife because I sort of break them (the rules) all. So does he, though, so whatever."
The actress, 30, who met Kelley on the set of his video for 'Only You', added that relationships shouldn't be hindered by outdated protocols.
She said: "The next day I waited until three o'clock and I went, 'Screw it, I'm going to call him'. I called and invited him out to a friend's barbeque. He showed up and we had a great time, and it was on from there."
It was recently reported that Heigl and co-star Gerard Butler were
evacuated
from a Four Seasons hotel in Los Angeles due to a bomb scare. The two were promoting the new romcom that explores the relationship differences between men and women.
The Ugly Truth
is due out in cinemas on August 7.