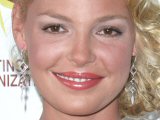 Katherine Heigl
wrote a list of characteristics that she wanted in a future husband before marrying Josh Kelley.
The
Ugly Truth
star, who married her musician partner in 2007, has claimed that the OCD in her personality forced her to be particular about the kind of man she wanted to marry.
Heigl told
Examiner
: "I went the whole 'make a list' route. I'm a little OCD. I'm very particular about how I like things and how I want things. I get that, deeply."
The actress continued: "I don't think you have to necessarily completely change who you are to be with someone that you want to be with, but you do have to compromise a little bit. You have to let go a little bit of yourself. There is just that fine line between desperate and honest."
Heigl recently described herself as "not very good at being a wife".