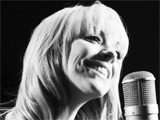 Liz McClarnon
has admitted that she isn't a fan of fellow popstar Lily Allen.
The former Atomic Kitten member, who has been trying to resurrect her solo career in recent months, branded Allen lazy in an interview with
Thomas Cook Travel
magazine.
She commented: "I absolutely detest Lily Allen. She has such a bad attitude and I don't like people who don't want to do any work. I think she's had a push from her dad."
According to the
Daily Star
, it is not the first time that McClarnon has voiced her dislike of Allen. It is believed that she made other derogatory remarks about the singer at the Galaxy Book Awards in April.
She is quoted as saying at the time: "[Lily] is just rude. Who knows why? Maybe she's just a woman hater but she'd better watch out. This industry was around a long time before she was and she needs to learn some manners."
McClarnon released her newest single
'Lately'
in May.