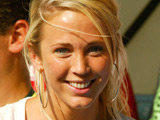 Australian weekly magazine
New Idea
has apologised to
Bec Hewitt
for labelling her brother as her new lover in an April news story.
Tennis pro Lleyton Hewitt's wife
sued
Pacific Publications and has been trying to find out who told the magazine that Shaun Cartwright was her boyfriend. However, the publication will not disclose its source.
A spokeswoman for the publishers told
The Daily Telegraph
yesterday: "We understand that the Hewitts are seeking to discover the source of the story, which Pacific will defend on the usual basis."
She continued: "Pacific regrets any hurt or embarrassment caused to the Hewitts by the story, which wasn't intended."
The story was based on photographs of the pair taken in America. Initially, the finger was pointed at paparazzo Jamie Fawcett, but he has insisted he was not the source.
The case will be heard in the South Australian Supreme Court on Friday.