Showbiz News
Peaches Geldof: 'I didn't copy Cole'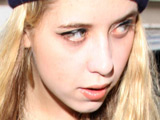 Peaches Geldof
denies having copied Cheryl Cole's deep purple-coloured hair.
The socialite recently uploaded photos of herself sporting newly dyed hair on Twitter after "the outcry over my not having done so".
She also wrote on her Twitter page that she did not intend to have the same colour hair as Cheryl Cole: "I dyed it... before I knew she had dyed it actually."
Geldof went to Inanch London hair salon in central London today to get hair extensions.