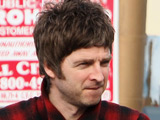 Noel Gallagher
has branded his brother Liam a "f**king moron" in the continued fallout from the Manchester band's
recent split
.
According to
NME
, Noel is believed to have made the remarks immediately after the argument he had with Liam before the group's aborted headline appearance at a Paris festival, which ultimately led to the guitarist's
announcement
that he was quitting the band.
"They say never work with children and animals. No-one mentioned f**king morons though, did they?" Noel allegedly said to a friend.
He then apparently launched a broadside at Liam's new Pretty Green clothing line, saying: "I think all the modelling malarkey has gone to his head. It's a pleasure to give him time and space to work on his autumn/winter collection."
It has also been reported that the altercation initially flared when the frontman travelled alone to the show in Paris on the Eurostar and arrived drunk. Noel is thought to have confronted his brother about being unprofessional and also declared his disappointment with management and security for not challenging the singer sooner.
Liam supposedly "exploded in rage" at Noel's criticisms and started insulting his children. He then reportedly hurled a guitar at Noel - which he promptly stamped on before walking out.