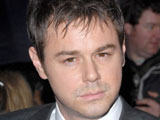 Danny Dyer
has said that Oasis are the biggest influence on his appearance.
The actor
plays
Sex Pistols bassist Sid Vicious in stage play
Kurt & Sid
and recently said that he would like to take the role to the
big screen
.
However, Dyer told
thelondonpaper
: "I've never really been into the punk look. The biggest influence on me was Oasis. I'm a trainers, jeans and T-shirt man. With music, I'm into a bit of everything.
"I've just started DJing, so I've got back into the classic house tunes. I'm a massive fan of Kasabian - they're the best around at the moment. And I like soul. I like everything except heavy metal."
He added: "I do like the Sex Pistols. You have to be in the mood, though. It's not Sunday afternoon music. Sid was never really a musician. He was a tortured soul, an enigma.
"He couldn't sing, play bass, couldn't do f**k all. But it worked. He was beautiful - a rebel without a clue. They used to take the plug out of his bass without him knowing."